Tried and tested glulam as an alternative to steel and concrete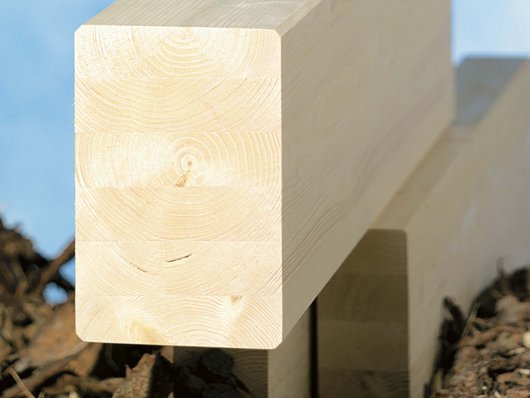 What is glulam?
KONZEPT BSH is a material designed for advanced and demanding construction projects. It opens up enormous design scope for interior fittings, allowing constructions to remain exposed and so radiate the aesthetic appeal and pleasant atmosphere of natural timber. KONZEPT BSH has a relatively low intrinsic weight coupled with extreme load-bearing capability. The use of modified melamine resin for gluing (light coloured joint) makes this material suitable for both indoor and outdoor application.
Glulam (BSH) is an industrially manufactured product for load-bearing constructions.
BSH consists of at least three fibre-parallel glued board lamellas made of softwood, which are connected force-fit to each other at the front end by means of finger-jointing. Dried quality-controlled spruce wood (in accordance with DIN 14081) is used for the production.
The DIN EN 14080 standard is relevant for the production of glulam. The width is determined by the individual lamellas. The maximum permissible slat thickness is 42 mm. The height depends on the number of glued board lamellas. Thus, a large number of standardized cross-sections are available. It can be manufactured in any length by finger-jointing according to DIN EN 14080.
BSH is dimensionally stable, fits perfectly and is therefore easy to process. The surface is planed on four sides and the edges are chamfered. Technical wood drying means that the use of chemical wood preservatives can be dispensed with.
KONZEPT BSH – available from stock in lengths of 12 m and 13,5 m
Timber type: Spruce
Quality: Quality monitored and produced to DIN 1052, finger jointed
Dimensions: Standard and nonstandard dimensions and lengths on request
fields of application

Planning and building with glulam is individual, safe and economical. Glulam-wood is the construction material for advanced and sophisticated constructions and for this reason a sensible alternative to steel and concrete. Glulam-wood is an ideal building material for residential building, old building, redevelopment area and constructive timber construction. The modern glued wood construction method also opens up a wide range of design possibilities for the architect in interior work. Remaining visible constructions create a pleasant atmosphere due to the characteristic appearance and the natural charisma of the wood.
delivery and performance programme
type of wood: spruce
stability classes: GL 24h
quality: visual quality, industrial quality
length: 12m (special lengths possible, at least 6m, maximal 26m)
width: maximal 240mm
height: maximal 1400mm
slat thickness: 40mm
surface: 4 sides planed and chamfered
wood moisture: 12% +/-2%
gluing: melamine resin, bright glued joint
packaging: industrial quality – package wrapped, visual quality – single and package wrapped
impregnation: colourless / yellow (until 13m)
minimum order quantity: acceptance in packages, acceptance in layers, single bars possible at extra charge
monitoring mark for glulam
The glulam-wood monitoring mark was created by companies producing glulam-wood. The aim of the mark owners is to produce and document quality that goes beyond the requirements of the building authorities. The owners of the mark undertake, among other things, to comply with stricter production requirements, to declare surface quality and to carry out internal and external monitoring of the product well beyond the requirements of DIN EN 14080: 2013.