Glulam-Items for the ceiling
GLULAM-ITEMS FOR THE CEILING
Ready-to-assemble quality conforming to DIN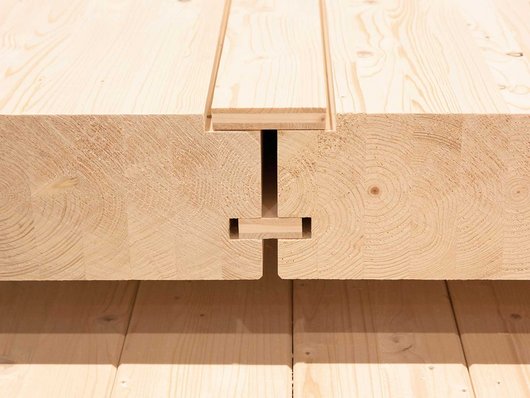 What are glulam - items for the ceiling?
Glulam ceiling elements are manufactured using glued and laminated spruce.
The individual face strips are longitudinally finger jointed and laminated in compliance with DIN 1052. The use of modified melamine urea glue (light-coloured glue joints) guarantees an optimum bond quality. State-of-the-art production guarantees an excellent standard of strength and outstanding smooth planed surfaces.
Glulam ceiling elements - the economical and ecological alternative to conventional ceilings
Glulam ceiling elements are made of spruce using glulam. The individual lamellas are finger-jointed in length and glued together in layers in accordance with DIN EN 14080.
The use of modified melamine and urea glues (light glue joints) ensure high quality bonding.
State-of-the-art manufacturing guarantees excellent stability and an outstanding, smooth surface.
Quality at a glance
• Available optionally in Si quality for use in exposed locations and nSi quality for non-exposed locations
• Classed as an S10 material in accordance with DIN 4074-1
• Tolerances: Thickness +/-1 mm, width +/-3 mm
Technical data
• Heat transfer coefficient = 0.13 W/mK
• Diffusion resistance ‹ = 20-50
• Bulk density appr. 490 kg/m
• Admissible tensions to DIN 1052-1/A1
• Fire resistance category subject to suitable floor structure F 30B or even F 60B, with corresponding structure /sub-ceiling up to F 90B
• Wood moisture content 12 % (+/- 2% on delivery)
• Shrinkage and swelling per 1% change in wood moisture content:
Length (in grain direction) 0.01%,
Width (radially) 0.19%,
Thickness (tangentially) 0.34%)
• Packaging in books or individually on request
Available in any dimension
The dimensions of the individual ceiling elements are individually defined on an order-specific basis.
The following maximum dimensions are available:
• Length up to 16,000 mm
• Width 600 mm (tongue dimension)
• Thicknesses 80 mm, 100 mm, 120 mm, 140 mm, 160 mm, 180 mm, 200 mm
• Strip thickness 40 mm

Depending on the chosen thickness, the ceiling elements are joined with a single groove (up to 120 mm thickness) or double groove and tongue (from 140 to 200 mm thickness).
the advantages are obvious:
assembly of immediately loadable elements in record time
high safety at work
finished suspended ceiling in visual quality
high load-bearing capacity with relatively low ceiling thickness
low tare weight
fields of application
Glulam elements are used in modern timber and object construction, especially in the area of floor slabs.
delivery and performance programme
type of wood: spruce
stability classes: GL 24h
quality: visual quality (Si), industrial quality (NSi)
length: maximal 26 m
width: 600 mm (other widths on request)
height: 100 mm – 240 mm, 80mm on request
slat thickness: 40 mm
surface: 4 sides planed and chamfered
wood moisture: 12% +/-2%
gluing: melamine resin, light glue joint
packaging: package wrapped


manufacture and installation instructions
The elements must be exposed under no circumstances the weather during processing, transport or installation. The installed elements must be immediately and permanently protected against moisture with a suitable film.
Sufficient space must be guaranteed on the outside of the ceilings for the expansion of the elements. In the case of larger ceilings, also provide expansion joints if necessary.
Other executions such as fastenings, rests and block-outs must be carried out in a carpenter's-friendly manner and in accordance with the latest state of the technology.
Only suitable floor constructional systems guarantee optimum sound insulation.
Coatings should only be applied after the equilibrium moisture content has been reached.
The elements are stacked with the visible side down, we ask for attention!
Tailored to your needs
We offer a comprehensive service for glulam ceiling elements with
• Technical advice,
• Compilation of a laying plan
• Preliminary measurement and
• Static analysis on request.

All joinery work is performed according to execution plans by the customer on site. Cut-ins, inclines or other special dimensions can also be supplied on request. On request, 3-layered panel plates can be used to join the elements. Glulam ceiling elements are supplied fully prepared for installation. Mounting aids are provided on the upper face (threaded inserts) for screw-in of the supplied cable eyelets for efficient craneassisted laying.