sustainability
is our conviction.
We take responsibility for our environment.
sustainability is not just a word for us
A successful environmental management and an ecological production cycle are integral parts of the company policy of SchwörerHaus.
"Climate protection company", "PEFC-certified wood" or "ISO 50001", are terms that are associated with SchwörerHaus.
In a nutshell, we would like to present you the most important certifications from SchwörerHaus in the area of environment and sustainability.
SchwörerHaus is a climate protection company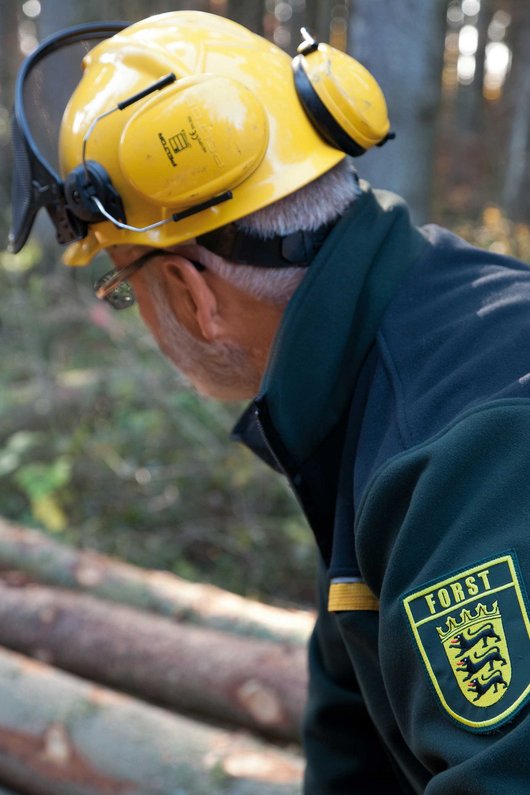 In order to be able to call oneself a climate protection company, demanding admission criteria must be met in relation to energy efficiency and climate protection.
SchwörerHaus has also been a member of the climate protection companies since 2011. It is an Initiative of Excellence of the Federal Government and the German Chambers of Industry and Commerce Day (DIHK). SchwörerHaus was included in the group of climate protection companies as a manufacturer of green electricity through the biomass cogeneration plant, through the responsible handling of resources and innovative products such as the energy-saving houses with a self-developed ventilation system with heat recovery.
As their ambassadors, we support an appropriate and future-oriented handling with limited resources, the environment and the living space of future generations. These resource-conserving measures must be constantly proven as they are regularly analysed and checked. The special feature is that SchwörerHaus is the only member among the 34 climate protection companies from this industry.
SchwörerHolz works together with partners from the region according to the principle of "wood of short distances". Only a few trunks cover more than 60 kilometres between the place where they are felled and the Schwörer timber sawmill. This saves unnecessary transport, lowers carbon dioxide emissions and strengthens the economic power of the region.
Social sustainability is also a key success factor for SchwörerHaus, which is why we invest intensively in the apprenticeship. As one of the largest, location-loyal employers on the Swabian Alb, SchwörerHaus offers the young generation apprenticeships in almost all jobs in the construction and timber sectors. More than 80 trainees are currently learning 16 different jobs, the majority of them are traditionally taken over.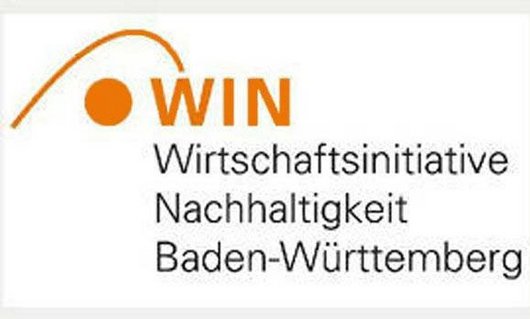 WIN-Charta
economic initiative sustainability

The economy of Baden-Württemberg is known for its innovative capacity and performance strength. Therefore the federal state government took already the initiative in 2010 and launched the economic initiative Sustainability (WIN) together with companies. This includes committed entrepreneurs for whom sustainability is a part of their corporate philosophy. The WIN Charter consists of 12 guidelines that cover topics of sustainability (economy, ecology and social affairs) and form common points of reference. By signing the WIN Charter, SchwörerHaus has admmitted itself to these guidelines, which are implemented in the company and cover all areas from employees to business management.
EMAS
(Eco-Management and Audit Scheme)
EMAS is a Community system of an environmental management developed by the European Union with the aim of improving the environmental performance of companies. SchwörerHaus has also been operating an environmental management system according to EMAS since 1997. The associated objectives and implementation are published annually in a Schwörer environmental statement. Already for the 6th time, SchwörerHaus receives the EMAS certificate and consequently it is a pioneer in the area of environmental management and sustainability.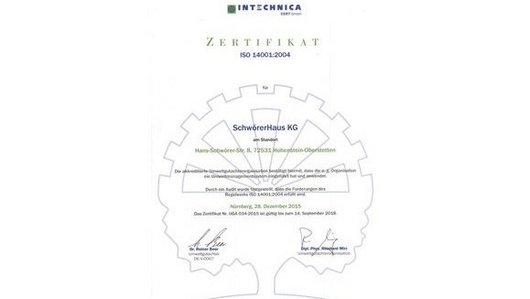 ISO 14001
environmental management
The Schwörer environmental management has also been certified according to the globally valid ISO 14001 standard since 2001. This international standard ISO 14001 defines globally recognized requirements for an environmental management system. The focus here is on the continuous improvement process of environmental performances.

AMS
health and safety management system
SchwörerHaus has also won another award for its occupational health and safety management. Employee safety and health play an important role in the company. Safety and health briefings are therefore carried out at regular intervals and optimum conditions are created for the workplaces. The BG Bau checks if the safety instructions are adhered to in regular audits.
All certifications are checked regularly or annually by the responsible organizations and are re-confirmed when the acceptance is successful. Our department for environment and safety is responsible for successful examination.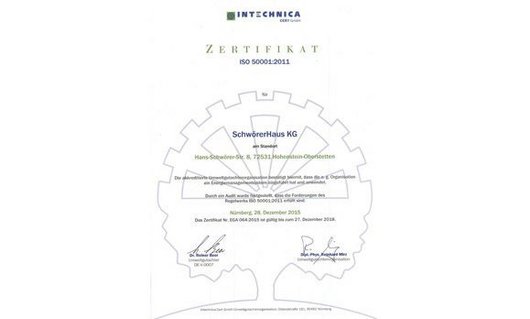 ISO 50001
energy management
In this connection it is about a globally valid standard of the International Organization for Standardization (ISO), which SchwörerHaus supports in setting up a systematic energy management system. Unused energy efficiency potentials are to be tapped, energy costs and greenhouse gas emissions are to be reduced.