Triple security for timber construction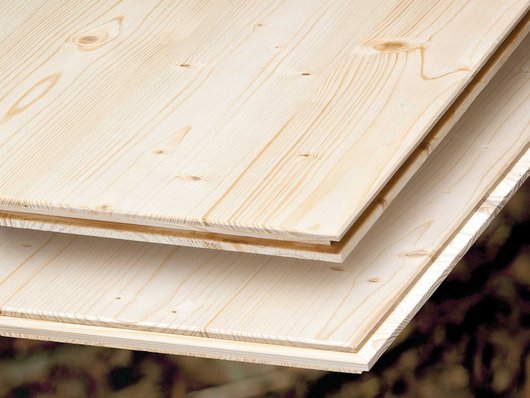 What are three-layer slabs?
Three-layer slabs (3S slabs) are glued from three layers of solid wood, at which the wood fibres of the adjacent layers running at an angle of 90° to each other.
The slabs are available in the types of wood spruce, in various formats, thicknesses and qualities.
Modified MUF resins are used for gluing.
By selecting the thickness of the individual layers, the elastomechanical properties can vary greatly, even for slabs of the same overall thickness.
characteristics
high-quality – selected woods, careful production, first-class gluing
flexible – numerous formats, many strengths, quality B and C
economical – large-sized, high degree of prefabrication
ecological – wood from the region, PEFC certified
safe – permanent self-monitoring of production, CE marking
fields of application
interior fittings e.g. wall cladding
timber construction for constructive and load-bearing use
basic information performance programme
middle position: spruce
ceiling slats: juncture glued
bonding quality: SWP 2
use class: 1 and 2
wood moisture: approx 10 +/- 3%
edge processing: groove and tongue, groove and groove
surface coating: Aqua clear lacquer, Aqua intensive white, special colours available on request
packaging: the packages are packed with a protective film
minimum order quantities: acceptance in packages, individual slabs possible at extra charge
stock + processing instructions: slabs or packages must be protected from weather influences, more information can be found in the download area. Downloadbereich
3S-installation slab
for the fast manufacture
3S-installation slabs for the interior fittings
If you want to work efficiently in interior fittings and you are looking for a particularly attractive derived timber product, you will find it here. The edge processing with tongue and groove (or groove - groove) and the excellent technical properties allow an universal use.
The installation of the slabs can be laid "floating" as well as nailed or screwed to substructures. It should be noted that a circumferential expansion joint of approx. 2 cm must be provided on the walls so that the slabs can work in the event of moisture changes.
3S-installation slabs for walls and ceilings are also available with chamfered edges.
A surface coating is possible on request.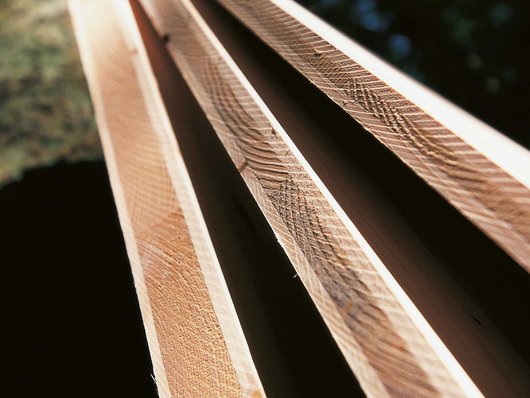 application and area of application 3S-slabs
storage and processing instructions
The slabs must be stored lying flat in closed and dry rooms and must be carefully covered. Improper storage or use in extreme climate areas may result in damage for which no warranty is given.
area of application
Due to the gluing with extremely low-formaldehyde MUF resins, the upper limit of formaldehyde emissions from derived timber products prescribed by the Federal Health Office is fallen below.
Therefore, these slabs can be used according to current knowledge as practically harmless in all rooms (also in kindergartens etc. ).
Despite the high-quality gluing, the physical properties of the natural product wood must be observed:
Wood "works", this property must be taken into account by suitable measures (shrinkage and expansion joints, fastening).
The slabs must always be protected against climatic influences and moisture during the entire construction period.
The moisture content of the slabs must be checked before processing and, if necessary, must be reduced to the desired wood moisture content by careful and slow air conditioning.
In addition, the following load classes must be observed when used:
exterior space climate
The constructive wood protection (rear ventilation, etc. ) must be carried out professionally
All cut edges must be sealed (e. g. with Fungol-Hydro-cross-grained wood logo, Aidol cross-grained wood protection or equivalent)
Appropriate surface protection must be applied
Mounting must be carried out with stainless fasteners.
outdoor climate I + II
We explicitly point out that we exclude our three-layer slabs from the use as facade slab in unprotected outdoor areas (outdoor I+II). The use of the slabs in these areas is done at the user's own responsibility and to the exclusion of any warranty claims.